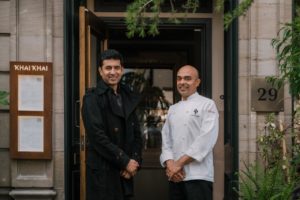 Khai Khai on Newcastle's Queen Street brings a fresh concept in Indian cuisine to the North East and one of the UK's most renowned chefs is behind it.
Michelin star chef Alfred Prasad is in Newcastle for Khai Khai's official launch as dine-in returns to the North East this week following months of restrictions.   
As the youngest Indian chef to be awarded a Michelin star, Alfred has been a key influence at Khai Khai, having worked closely with owner Jaf Ali on the concept since early 2019. Two years on and Afred has finally been able to visit the restaurant in person.    
Alfred has used his wealth of experience and knowledge to design the menu and oversee the development of the Kitchen.     
 Jaf Ali, owner said:
"We are very excited and honoured to welcome one of the country's top chefs, Alfred Prasad, to Newcastle. Khai Khai as an early concept began in 2016. We had the name and an outline idea to recreate the flavours and retro comfort of my grandmother's kitchen but as a culinary concept we wanted to push it further.  Where else would we look to for that level of expertise but to one name, Chef Prasad. He has elevated the reputation of British Indian food throughout the world and to have Alfred involved is amazing."  
Commenting on his involvement Alfred explains: "I met Jaf in London back in 2019 and it truly was a meeting of minds. I instantly bought into his vision to create a path breaking and elevated dining experience in Newcastle."    
 "The initial brief was based on traditional wood fired stoves where smoke played an important part in the preparation of the food. We pushed that imagery further and the concept Smoke Play and our food story was born.     
 "To bring smoke play to life we use tandoor ovens but also a Josper oven which enhances the smokiness of the food cooked in it. "  
"We created a menu that includes small plates, smoke plates (using the Tandoor and Josper oven) and heritage dishes (our twist on the classic dishes of the Indian sub-continent), with our own signature flair using charcoal. My philosophy of heritage, health and happiness reflects in our compact and eclectic menu. I am particularly proud of our extensive plant-based offerings, which brings a great balance to our food offering."    
 As well as fresh seafood, organic poultry and meat, vegan and plant-based dishes are heavily featured.  Speaking about his favourite dishes on the menu, Chef Prasad says, "that's a tough one but I would say the Smoked aubergine, and  Josper lamp chops. The intense smokiness created by the  Josper oven makes them even more special."  
He finished by saying, "It's been a pleasure going on this extraordinary journey with the Khai Khai team, from conceptualising the whole idea to seeing it come to life. I am truly proud to present a unique Indian dining experience to Newcastle and be a part of this urban legacy."  
 Khai Khai is now open for bookings.